My Story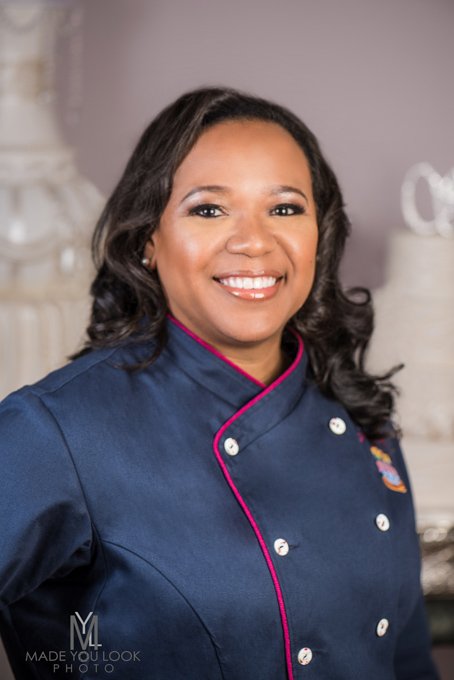 Over 10 years ago this business started as a hobby! It was a way to relieve stress and make a little extra money... I had no idea I would fall in love with cake decorating. I worked over 10 years with the State of Georgia in the Telecommunication Division my co-workers helped me find the right cake recipes and encouraged me to continue to take classes and grow. As budget cuts and layoffs effected the State Government it allowed me to pursue my passion full time.
As the cake decorating world changes so do I
I've designed cakes for a great deal of our Atlanta celebrities from Ne-Yo to Phaedra Parks and Kandi Burress of The Real Housewives of Atlanta.

Each year I take classes to keep up with the trend and learn new techniques because each year the brides are different and want something that POPS for their day! Allow me to make this happen for you!

Please browse my on-line portfolio to help you get started. E-mail me or call to schedule a personal consultation, bring in a photo of a cake you would like recreated. Together we can design the wedding cake that reflects you.


WE ARE A LICENSED AND INSURED PRIVATE CAKE STUDIO FOR YOUR PROTECTION!


La'Meeka Edwards
Cake Artisan
***P.S. All the cakes on this site are my cakes****


Pricing and Flavors


Just want something sweet? Try our Goodie Box!


You get 3 Chocolate Chip cookies, 2 fudge Brownies, 1 Slice of Pound Cake, 1 Cake in the Jar, and Chocolate Covered Pretzels! All That for only $25.00 (Supplies are limited, flavors and some items may change weekly)


Custom Cake Pricing

Since all of our cakes are custom-made for our client's specific requirements, it is difficult to offer a standard price list. we do have per serving charge of $10.00 after that minimum depending on the flavor and design the per serving price may increase.


A CAKE TASTING is available for 3 guests for a non-refundable fee of $25.00 (If wedding cake is booked within 7 days the $25.00 will be applied to the total invoice or contract price). There is a $15.00 fee for each additional guest. Maximum guest 5 (example: bride, groom, coordinator, and 2 mom's) There is a service fee of $10.00 per flavor premium cake flavors tastings. Please understand, the more people that are at the table the less time I can focus on the couple.

La'Meeka likes to meet each client personally for the cake tasting and consultation, after selecting cake flavors we move into the design session this is where we create a sketch of your wedding or party cake.

Additional cake tasting are $75.00.

We understand this is an exciting time and everyone wants to share in the planning process, but please show respect for our business and the tasting by not inviting or bringing unexpected guests, we only prepare plates for the amount of guests specified on the confirmation. There is only so much room at the table. It is very difficult to give the bride and groom my attention when there are a large number of people at the table.

We are NOT a retail bakery we do not have pre-made cakes, or sliced cakes on site.

Sample of Wedding Cake Flavors
5 to 7 flavors of my choice will be served on the tasting. Any special flavor request a fee of $10.00 for each flavor will charged before tasting appointment.

Cake Flavors

White Creme' (most popular a citrus based cake served with lemon buttercream)
Dark Chocolate Fudge (used for standard groom's cake)
Butter Almond served with a vanilla buttercream
White Vanilla Bean served with a vanilla buttercream
Strawberry Pound served with a vanilla buttercream
Red Velvet served with Cream cheese buttercream with or without nuts
Tangy Key lime with a light lemon buttercream

Examples of our Premium Flavors (offered on tasting for an additional charge per flavor)
White Chocolate Vanilla Bean Pound Cake, Carrot Cake
Red Velvet, Pineapple upside down,
White Chocolate Raspberry swirl, and Coconut Creme
Other flavors are available at request

Additional Decorations
Tuxedo Strawberries $50.00 per dozen
Chocolate Covered Strawberries $30.00 per dozen
Sugar paste decorations: pricing vary


Delivery Fee starts at: $85.00* metro Atlanta deliveries only... anything outside of metro Atlanta the price may vary.



We have a strict no refund policy, please be sure to follow your payment schedule.

Thank you so much for taking the time to view our site!